At the evening of September 12. please join us for a very special conference dinner. An evening combining a boat trip through Amsterdam's unique cluster of canals, with the culinary experience of a real Indonesian dinner buffet. 
---
A fleet of six original Amsterdam Salon Boats take the SEMANTiCS conference crowd through the "Grachts" - allow you to admire the elegant homes of the merchants along the canals, which have been there since the Golden Age, unparalleled façades and frontages, beautiful churches and many other sights, which are unique to Amsterdam.
Crusing the Amsterdam channels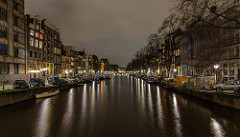 Amsterdam, also known as the "Venice of the North", has about 100 kilometers of canals. These divide the city into smaller islands that are connected by beautiful historical bridges. The most famous canals are the Herengracht, Keizersgracht and Prinsengracht. 
The fleet
Our fleet for that evening is formed by six salon boats. With big windows and comfortable seating, you can enjoy your dinner while discovering the UNESCO World Heritage of Amsterdam.
Jacob van Lennep

Hildebrand

Bredero

Multatuli

Proost van Sint Jan

Iris
Our Semantics Captains
A special gudiance to the networks of A'dam.
Laura Hollink (Centrum voor Wiskunde en Informatica) 

 

Laura Daniele

 (TNO, the Netherlands Organisation for applied scientific research)

Frank van Harmelen 

(Vrije Universiteit Amsterdam)
Victor de Boer (Vrije Universiteit Amsterdam) Conference Chair
Tassilo Pellegrini (St. Pölten University of Applied Sciences)

Lora Aroyo (Vrije Universiteit Amsterdam)
Indonesian buffet
The Dutch arrived in Indonesia in the 16th century in search of cloves, nutmeg and pepper during the height of the spice trade. When the Dutch East India Company (VOC) went bankrupt in 1800, Indonesia became a treasured colony of the Netherlands. During this period the Dutch embraced the delicious Indonesian cuisine both at home and abroad. Our Indonesian dinner is the perfect end of the first conference day and a great start to a night out with colleagues or business associates.
Krupuk Asli (assortiment Indonesische crackers)
Nasi Putih (fragrant white rice)
Sate Babi (marinated pork in spicy peanut sauce)
Daging Rendang (spicy stewed beef)
Tahu Tempe Taoco (tofu prepared with black soya sauce)
Sambal Goreng Boontjes (beans in spicy sambal sauce)
Acar Ketimun (Javanese cucumber salad in sweet and sour sauce)
Sambal Goreng Kentang (spicy potato sticks)
Serundeng (fried spiced coconut with peanuts)
Sambal Bajak (fried sambal)
Spekkoek (layered baked spiced cake)
If you would like to order a vegetarian meal, please check the respective box at your Registration.
Join!
Two shuttle busses start from Meervaart at 17:45 and 18:00. Boarding will be at at Steiger Stadhuis en Muziek- theater (Stopera), centrum Amsterdam. Our round trip will return to the same pier at 20:30.