The SEMANTiCS conference series is run by Semantic Web Company together with local partners since 2005. It has a long tradition of bringing together colleagues from around the world to present best practices, panels, papers and posters to discuss semantic systems in birds-of-a-feather sessions and informal settings.
---
SEMANTiCS 2017 is an international event on Linked Data and the Semantic Web where business users, vendors and academia meet. Widely recognized to be of pivotal importance, it is the thirteenth edition of a well-attended yearly conference that started back in 2005. It offers keynotes by world-class practitioners, presentations and field reports in diverse tracks, talks addressing a variety of topics, and panel discussions. And, of course, ample opportunities for networking and meeting like-minded professionals in an informal setting.
Interested in the latest developments around Linked Data? Visit SEMANTiCS 2017 on 11-14 September in Amsterdam and join the conversation.
---
SEMANTiCS 2017 is een internationale conventie over Linked Data en het Semantisch Web waar business-users, leveranciers en de academische wereld elkaar treffen. Het evenement is breed erkend als belangwekkend en is de 13e editie van een jaarlijkse reeks die begon in 2005. Het biedt keynotes door experts van wereldfaam, presentaties en veldonderzoek in diverse tracks, lezingen over een brede variëteit aan onderwerpen, en paneldiscussies. En natuurlijk veel mogelijkheden voor netwerken en gesprekken met professionals van diverse pluimage in een informele sfeer.
Ben je geïnteresseerd in de ontwikkelingen rondom Linked Data? Kom naar SEMANTiCS 2017 op 11-14 September en neem deel aan het gesprek.
A Brief History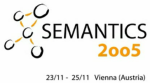 In November 2005 Semantic Web School (now Semantic Web Company) initiated together with The Austrian Computer Society, Salzburg NewMediaLab and DERI Innsbruck (now STI Innsbruck) the first conference of its kind for Central Europe being located in Vienna. From its third edition, the conference was located in Graz, partnering with Know-Center and widening the outreach by co-locating with I-Media and I-Know. Adding a prefix to its name, I-Semantics has developed since then as being a well established conference within the sector. Not to forget, that for the years 2009 to 2011 the "Conference on Pragmatic Web" was guest at I-Semantics too.